Hey readers! So you may have noticed you didn't get a Football Friday post this past Friday. Well, there is a good reason. Well, actually a great reason. That reason? I have "lost" my digital copy of
All Broke Down
and couldn't get you guys all the awesome info I needed, so... A couple of days later I decided I would just do it from memory and with the help of our amazing author, Miss Cora Carmack, I still have a great post for you guys! PLUS you still get a chance to enter the AMAZING giveaway! Here we go!
As you guys have undoubtedly heard, I am an avid fan of Cora Carmack and a member of her Street Team, promoting her newest Rusk University novel, All Broke Down, coming at ya on October 28, 2014! Just in case you have been living under a rock, I have all the information about All Broke Up available on the sidebar of my blog! Look over here>>>>>

In case you guys aren't good with math, that's only 4 weeks away! Actually, not even that, more like 24 days! Cora and our amazing crew have decided to reward you, the readers, with a special treat each Friday. I welcome you to my second post to get the crowd ready for book two of the Rusk University series. Each Friday until release day I, along with some fellow Street Teamers and Cora herself, will be giving you guys an insight to some of the books main characters and themes!

In case you are confused about what this is, check out my previous Football Friday posts at any of the links below! Each one is about a different character in Cora's first book of the series, All Lined Up!


Alright everyone, hope you're ready, because here is our second edition of our sophomore edition of Rusk University Football Friday!
Today's post topic: Meet Matt
Before we get started here with all things All Broke Down, if you haven't read or aren't familiar with book one of the series (All Lined Up), head over to my blog tour and review by clicking here! Hopefully you're already in the know about the Rusk University series so I'll just jump right in and give you guys a little info in the form of the official synopsis for All Broke Down!
Check out the cover and synopsis and then some info about the AMAZING Cora Carmack!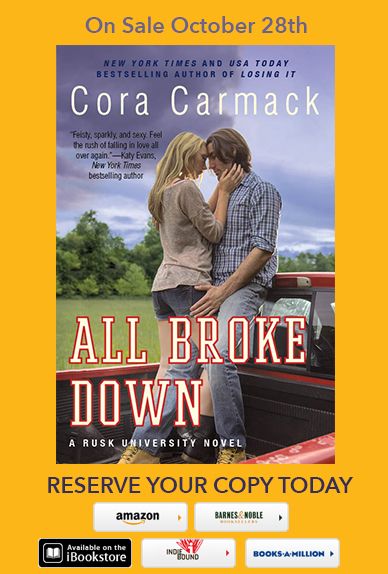 In this second book in New York Times and USA Today bestselling author Cora Carmack's New Adult, Texas-set Rusk University series, which began with All Lined Up, a young woman discovers that you can't only fight for what you believe in . . . sometimes you have to fight for what you love

Dylan fights for lost causes. Probably because she used to be one.

Environmental issues, civil rights, corrupt corporations, and politicians—you name it, she's probably been involved in a protest. When her latest cause lands her in jail overnight, she meets Silas Moore. He's in for a different kind of fighting. And though he's arrogant and infuriating, she can't help being fascinated with him. Yet another lost cause.

Football and trouble are the only things that have ever come naturally to Silas. And it's trouble that lands him in a cell next to do-gooder Dylan. He's met girls like her before—fixers, he calls them, desperate to heal the damage and make him into their ideal boyfriend. But he doesn't think he's broken, and he definitely doesn't need a girlfriend trying to change him. Until, that is, his anger issues and rash decisions threaten the only thing he really cares about, his spot on the Rusk University football team. Dylan might just be the perfect girl to help.

Because Silas Moore needs some fixing after all.
Alright, now that you guys have seen that awesome cover, take yourself a minute to calm down, I know the excitement can be a little much! Now take a minute to learn a little bit about our amazing author, my great friend, and fearless leader of the Carmcats, Miss Cora Carmack:
Cora Carmack
Cora
Carmack is a twenty-something writer who likes to write about twenty-something characters. She's done a multitude of things in her life-- boring jobs (like working retail), Fun jobs (like working in a theatre), stressful jobs (like teaching), and dream jobs (like writing). She enjoys placing her characters in the most awkward situations possible, and then trying to help them get a boyfriend out of it. Awkward people need love, too. Her first book, LOSING IT, was a New York Times and USA Today bestseller.
Pre-Order Your Copy Today!



ALL ABOUT MATT
Okay. Now you know all about
All Broke Down
, so what's different this time around?
All Broke Down
, as the synopsis says, tells the story of Silas Moore, the 'bad boy' of Rusk U! Silas was my absolute favorite part of ALU and actually was the inspiration behind most of my graphics and promotion, for example:
Pretty cool right? Imagine how excited I was when Cora announced that Silas would the the focus of book two? Yeah. THAT excited. In this novel, which I have had the amazing pleasure of already reading, Silas gets a step up and his story is great! I'll have a huge post all about Silas in a few weeks, but today we're talking about one of the secondary characters,
Matt
!
Matt is Dylan's (our female MC) best friend and partner in crime. In fact, when we first meet Matt, he is sitting right beside Dylan... in a jail cell! Oh yeah. Welcome to
All Broke Down
! Matt is HILARIOUS! He and Dylan have such an awesome friendship. It is so funny that Cora took the time to write a character like Matt. He is honestly unlike any character she has every written before. He is a bi-sexual male who seriously has some of the best lines in the novel. His wise-cracks about the other characters in the book had me laughing out loud on multiple occasions! Also, fun fact about Matt? He is OBSESSED with the Rusk University Wildcats! In fact, he freaks out when he gets to meet some of our favorite Wildcats, they are superstars to him! I have had friends like Matt before and, like Matt, I have a relationship with my female best friend, much like his and Dylan's! It was really refreshing to read about a platonic male-female friendship in a NA novel. That was a nice change for me to see! Throughout the novel Matt makes several appearances and is mentioned many, many times. He plays a pretty important role in the story, and like I mentioned before, he supplies LOTS of comedy for our story! Cora has mentioned that writing Matt was a pretty fun experience for her.
So what does Matt look like? Cora goes into pretty great detail to give us an image of what Matt looks and sounds like in the novel, so instead of spoiling that for you, I'll just share this picture that Cora sent me! She says that this was her inspiration for Matt:
Excited? Think you know a little bit about Matt now? I really think all you Cora fans will really like Matt, he was a great character who was written very well! In true Cora style, he is full of laughs and makes for a fantastic secondary player! That's all I have for you guys on the topic of Matt, but have you seen my GIVEAWAY?! Enter below! But first, enjoy this graphic I made promoting
All Broke Down
!
GIVEAWAY
For these next several weeks I will be hosting a HUGE All Broke Down Giveaway to celebrate the release of this amazing novel! Please fill out the rafflecopter below for a chance to win one of three ecopies of All Broke Down as well as one of five Cora Carmack SIGNED swag packs!
a Rafflecopter giveaway
Alright guys, are you pumped?! I have LOTS more Football Friday posts for you guys to devour, but I wanted to make sure you guys knew all about All Broke Down before I tease you with new info each week! Be sure to enter my "Football Friday" wide giveaway and come back next week to learn all about the Rusk University Wildcats! In the coming weeks be on the look out for some info on upcoming author events and a few more book reviews I am working on! Don't be a stranger guys, comment below and say hey! I love to hear from my readers! Happy Reading! Bleed Rusk Red!
-Ethan