Hey everyone and Happy Sunday! As most all of you know, I am a HUGE supporter and fan of the amazing Cora Carmack! In fact, I am a member of her Rusk University Street Team! Pretty cool, right? Anyway, this week I am beyond excited and proud to be on the blog tour promoting
All Broke Down,
book two in her Rusk University series! For my blog tour stop today I will be reviewing ABD and sharing TWO giveaways with you all! Any of you who follow this blog regularly are aware of the Football Friday celebrations we hold around here, so I don't have to keep gushing all about Cora! :) Thank you all so much for coming to party, let's learn a little bit about the book and Cora before we get to my thoughts and the giveaway!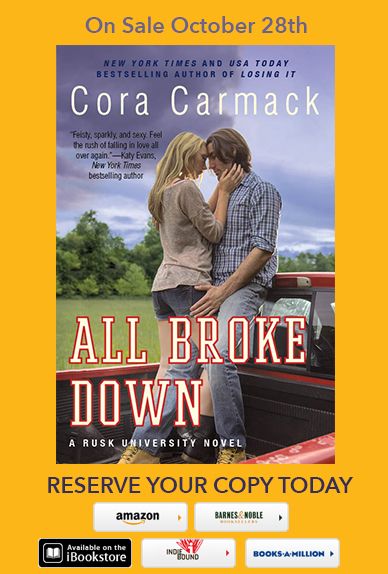 In this second book in New York Times and USA Today bestselling author Cora Carmack's New Adult, Texas-set Rusk University series, which began with All Lined Up, a young woman discovers that you can't only fight for what you believe in . . . sometimes you have to fight for what you love

Dylan fights for lost causes. Probably because she used to be one.

Environmental issues, civil rights, corrupt corporations, and politicians—you name it, she's probably been involved in a protest. When her latest cause lands her in jail overnight, she meets Silas Moore. He's in for a different kind of fighting. And though he's arrogant and infuriating, she can't help being fascinated with him. Yet another lost cause.

Football and trouble are the only things that have ever come naturally to Silas. And it's trouble that lands him in a cell next to do-gooder Dylan. He's met girls like her before—fixers, he calls them, desperate to heal the damage and make him into their ideal boyfriend. But he doesn't think he's broken, and he definitely doesn't need a girlfriend trying to change him. Until, that is, his anger issues and rash decisions threaten the only thing he really cares about, his spot on the Rusk University football team. Dylan might just be the perfect girl to help.

Because Silas Moore needs some fixing after all.
Pre-Order Your Copy Today!



And don't forget to grab your copy of ALL LINED UP Today!

Cora Carmack

Cora
Carmack is a twenty-something writer who likes to write about twenty-something characters. She's done a multitude of things in her life-- boring jobs (like working retail), Fun jobs (like working in a theatre), stressful jobs (like teaching), and dream jobs (like writing). She enjoys placing her characters in the most awkward situations possible, and then trying to help them get a boyfriend out of it. Awkward people need love, too. Her first book, LOSING IT, was a New York Times and USA Today bestseller.
***********************************************************************************
My Thoughts
A few months ago, Cora Carmack blew the New Adult genre apart with the release of the first novel in the Rusk University series, All Lined Up. Readers LOVED the exciting heartfelt story of Carson McClain and Dallas Cole and it shows! All Lined Up has nearly 5000 Goodreads reviews and a 4.1 star average! Pretty doggone impressive! I don't know about anyone else, but I was so pumped to read All Broke Down! Silas Moore, our MC was my favorite part about ALU so I was really excited to see him get his own time to shine in ABD! How did it measure up? Let's break it down:
When it comes to the plot,
All Broke Down
has it going on! This time Cora follows the story of Silas, our resident bad boy as he falls hard for Dylan Brenner, the most badass girl Cora has written to date. Silas is known for being a bit of a trouble maker, but when his latest antics land him in jail, it takes pairing up with Dylan for Silas to really straighten up and fly right. Throughout the course of the novel we see Silas go from free-wheeling frat boy-esque behavior to mature and adultish. It was really neat to learn more about Silas's past and see the ins and outs of what makes him tick. Silas is such a deep character with a lot more than what you see on the surface. He is also hilarious and a huge douche lobster which is why he is my favorite character in the series!
Dylan is all about lost causes. A new age hippie so to speak! She protests what she doesn't agree with an participated in activism for causes she loves. I have a whole lot of respect for that, considering I am the same way. Dylan is also pretty innocent when it comes to romance so it was relaly fun to see the dynamic between these two characters!
Unfortunately, due to an error, I no longer have an ecopy of
All Broke Down
and I lost all my fun highlighted quotes for you guys otherwise I'd be sharing them here! I can tell you though that Carmack was out in true form during this outing. ADB features some of the best quotes she has ever written. For those of you unfamiliar with Cora's works, she has one of the best writing voices I have ever seen. She has great insight to the mind of NA readers (probably because she's basically one herself)! Everyone who is anyone will find something to relate to in this novel, it was great.
I will go on and say that there was one huge negative about this book for me. There is a bit of a major plot twist at the end of
All Broke Down
that I was not a fan of at all. I will not go into details, but I really didn't agree with what happened and really didn't enjoying reading one particular thing. Anyone who has read the novel will probably know what I am talking about. I have spoken to Cora about this issue and she assures me that ABD is not the last time this issue will be addressed. I believe that Cora has hit the nail on the head with a large issue that needs to be addressed in the college community, I just don't know how I feel about it being featured in this novel. It was just a shock more than anything.
WARNING: This book does feature several explicit sex scenes involving bathrooms, kitchens, and finally a bedroom... Yyyeeeaaaahhhhh lol. Also, there are drug references throughout and a couple of usage scenes. There is also some strong language at parts (but what else would you expect from a novel based around a college football team?! LOL).
In the end, I found
All Broke Down
to be a great second outing in the Rush University series. I'm really excited for this one to release and to hear all of your thoughts on the topic. Over the course of the last year, Cora has become a close friend of mine and I am honored to be promoting this book in any capacity. Please go show Cora all the love you can! All-in-all I am granting
All Broke Down
a
4-star
review. While it wasn't my absolute favorite Cora book to-date, I still found it to be enjoyable and can't wait to read more in the series!
***********************************************************************************
Giveaways!
Be sure to check out both giveaways on this tour stop for ABD!
a Rafflecopter giveaway
a Rafflecopter giveaway
Alright readers, that is all I have for you on the topic of
All Broke Down
by my great friend and amazing author, Miss Cora Carmack! Head over and show Cora some love! Have you read ABD? Tell me what you thought in the comments below! Special thanks to KP and the amazing team over at
InkSlinger PR
for allowing me to participate in this tour. Until next time, Happy Reading!
#BleedRuskRed
-Ethan