Hey readers! We're nearing the end of October (my favorite month of the year), and you know what that means!? It's almost Halloween! As most of you already know, this year Christina from
Lulo Fangirl
and myself are co-hosting the
Halloween Author Invasion
event on Facebook from
October 26-30
! For those of you who don't know about the event, you can find out more by clicking
here
.
Who all is participating? Here's our amazing guest list:
Now that you guys are all FOR SURE familiar with the Halloween Author invasion, I have a fun post for you guys. To get everyone pumped about our amazing guest list, Christina and I will be featuring Author Spotlight posts for our authors to get you excited to party alongside them next week! Each post will feature the authors bio, links, and a fun exclusive Halloween-ish interview they have granted us for the event! We are so honored to have all of these amazing authors participating in our event! Are you ready to learn a little more about our line up? Here we go!
***********************************************************************************
AUTHOR SPOTLIGHT
Sarra Cannon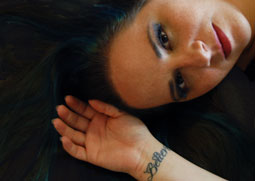 Sarra Cannon grew up in a small town in Georgia where she learned that being popular always comes at a price. Now, she lives in North Carolina with her amazing husband and her teeny tiny Pomeranian, Snickerdoodle. Books and music are her greatest passions. She has never been a cheerleader, but it's possible she knows a few things about casting spells.
Find Sarra Cannon
Sarra Cannon is another one of the authors on our list that I didn't get to know until just recently. It was not until I got to read
Midnight Kiss
, which featured short stories from 2 of our participating authors, that I realized that I has been missing out of all the amazingness that is Mrs. Sarra Cannon! Since then I went and got my hands of a box set of Sarra
Peachville High Demons
series and am going to be starting those here in the next couple of days! All of Sarra's are highly ranked and reviewed, so I am so excited to get to know our author a little more! Interested in Sarra's works? Head over to her Goodreads link (above) and see all the amazing paranormal reads that Sarra has blessed upon the literary world! I am SO excited to be working with Sarra! I can't wait for you all to meet her as well!
What is your favorite supernatural genre (Witches, zombies, vampires, werewolves, etc) and why?

It is way too hard for me to pick a favorite!! I write about almost all of these. Witches is my first love, so if I had to choose, I would say witches, but I truly love all things paranormal. I'm obsessed with zombie movies and books. I love vampires and shifters. The only shifter I've never really been able to get into is werewolves. It's just not my thing! haha.
What is your favorite horror film and/or read?
Favorite horror film of all time is the original Halloween. There is just something so simple and perfect about the execution. Seeing that white mask in the shadows is absolutely terrifying, but without all the gore and gimmicks of so many other horror movies. My favorite horror novel is probably Stephen King's Duma Key.
What is your favorite Halloween costume (or your favorite that you have worn/have seen)?
I don't have a favorite costume, but I will say that I appreciate it when anyone is able to come up with something totally original and different. When I go to a Halloween party and see a costume that is hand-made or really thought-out, I just absolutely love that! I wish I were more creative when it came to costumes, but I usually go for the kind that comes in a bag :P.
What is your favorite Halloween candy?
Candy Corn. Is there anything that even compares???
What is your favorite Halloween memory?
My first Halloween with my son. He was just a tiny little 4 month old baby, but we dressed him as a ninja and walked around the neighborhood with friends. He was absolutely precious! I think this year will be even more fun now that he's 2 and can appreciate the decorations more!!
Another great memory is the Halloween from 2010. I had just published my first novel,
Beautiful Demons
, on the 29th, and I was shocked to see a handful of sales coming in. I think I spent most of Halloween that year watching scary movies with my husband and refreshing my sales page. :) I never could have dreamed I'd be sitting here just 4 years later with over 250,000 sales.
***********************************************************************************