Hey everyone and Happy Saturday once again! Hope you guys are having a fantastic start to your weekend. We're on the countdown and only have five days until Christmas! That's it! I don't know about you guys but I am hoping for a Christmas full of all things bookish! On that note, I have another review for you guys today, this time on the chopping block we have one of my favorite series of all time, Mortal Enchantment! You guys have seen me post all kinds of awesome things about this series over the course of the last few months, but I haven't yet had a chance to share my thoughts on the latest entry in this series. This time up for review? Fragile Reign by Stacey O'Neale!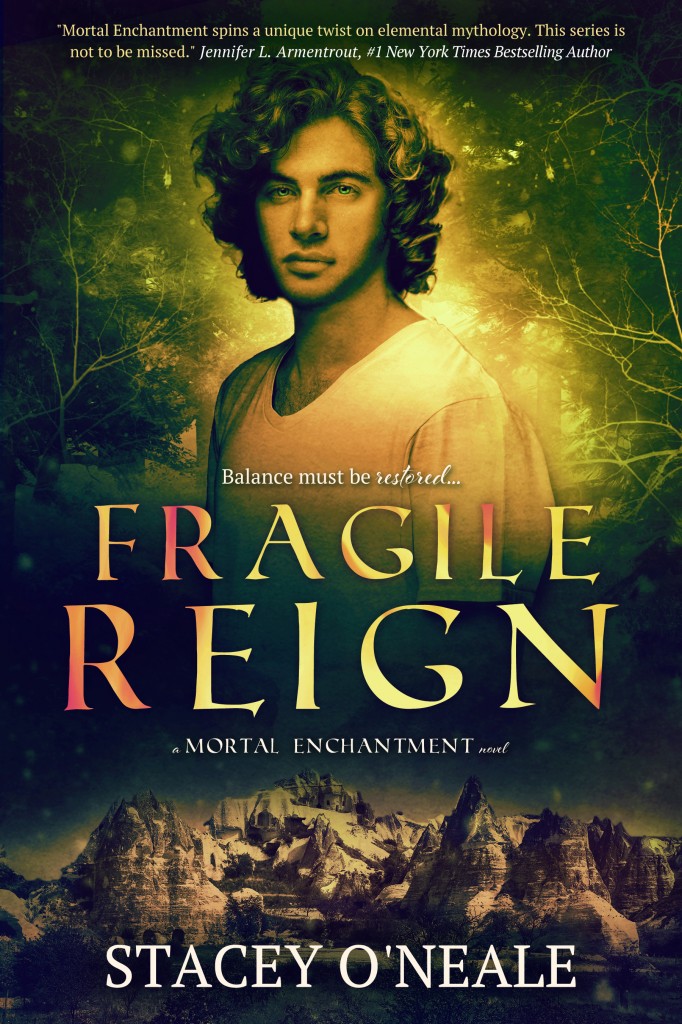 It's been a week since all hell broke loose… Rumors of King Taron's weakened powers have left the air court vulnerable. Kalin is desperate to awaken her akasha powers, except she doesn't know how. Tension within the court is at an all-time high. Pressure is mounting for her to ascend to the throne, but a halfling has never ruled over any court. To solidify her position, the council has advised her to marry Sebastian—a high ranking air elemental she's never met and her betrothed. Will Kalin sacrifice her relationship with Rowan to strengthen her court? Rowan and Marcus return to a fire court in turmoil. Liana's death has fueled the fire elementals' distrust against the air and woodland courts. The unbalanced elements have set off natural disasters all over the mortal world. Rowan takes the throne to restore balance, promising to unite the fire court. But not all elementals are happy with his leadership. Many are secretly loyal to Valac, which means Rowan needs to find allies for his cause. Can Rowan unify the court of fire before the elements destroy the world?

If you haven't read Stacey's
Mortal Enchantment
series, you can get the first book for
FREE
on Amazon and Barnes & Noble!
The Shadow Prince
won GOLD at the 2014 Readers' Favorite Book Awards in the Short Story/Novella category!


Stacey O'Neale
Stacey O'Neale lives in Annapolis, Maryland. When she's not writing, she spends her time fangirling over books, blogging, watching fantasy television shows, cheering for the Baltimore Ravens, and hanging out with her husband and daughter. Her career in publishing started as a blogger-turned-publicist for two successful small publishers. Stacey writes young adult paranormal romance and adult science fiction romance. Her books always include swoon-worthy heroes, snarky heroines, and lots of kissing. Stacey loves hearing from readers. Follow her on Twitter @StaceyONeale, look for her on Facebook, Pinterest, and GoodReads. You can also visit her blog at http://staceyoneale.com/.
*********************************************************************************
My Thoughts:
Okay guys, I just had to go back and reread my reviews of the last two installments of this series to get a feel fo rmy mindset while writing this. Allow me to reiterate this for you all: THIS IS ONE OF THE GREATEST SERIES I HAVE READ ALL YEAR. Woah. I sincerely apologize, I didn't mean to lose my cool like that, it's just that THIS IS THE GREATEST SERIES EVER. Woah, woah, woah. I should probably calm down before I blow a gasket here. Did you guys catch that? Did you hear like I enjoy this series? Anyway. With all that being said, you can only imagine how pumped I was to read the latest installment in this incredible series. Thankfully, just like its' predecessors, Fragile Reign was absolutely astounding. Let's break this down.
Fraigle Reign picks up one week after Mortal Enchantment left off. Right in the middle of the elemental world going crazy. King Taron has been rescued, barely, but his court is in danger of falling apart without him. The fire court has so many problems they could use their own novel. Kalin and Rowan are... complicated, and if things don't settle down before too long, even the mortal world will be devastated by all the craziness that's happening in Avalon! Got all that? Basically Stacey had some big shoes to fill. She sets us up for a huge store, and I have to say guys, she did not disappoint.
From the very first page, I was hooked. I'm a big fan of series where the author just jumps right in and does not feel the need to essentially recap everything that has happened up to this point. JK Rowling was awful about that with Harry Potter, you could always skip the first 50 pages and know you wouldn't miss a thing! Thankfully, Stacey O'Neale doesn't waste her time getting to the good parts. Right from chapter one we have Rowan putting out forest fires, and Marcus fighting his inner demons. Kalin and Ariel are facing their fair share of issues in keeping the Air court together while King Talon recooperates. This is not your average YA Fantasy.
When it comes to the characters, Stacey delivers more than she ever has before. We still have our amazing cast from the previous novels, as well as a few awesome additions. Rowan is still awesome, Kalin is finally get a hold of her life in Avalon, Ariel still loves Marcus, and Marcus, oh Marcus. My favorite character. Marcus really gets his time to shine in this book. I know I have mentioned this before, but I have no idea why I enjoy Marcus' character so much, but I do. I am seriously getting to the point where I want Stacey to write another novella or series just for Marcus. Thankfully his role in this novel is much larger than in previous ones. All you Marcus fans out there will not be disappointed. Also, he's on the cover, how cool! The most awesome edition to the cast, in my opinion was Sebastian, or 'Bash', as he is called. Bash plays a very important part to our story line and I was very impressed with his character. Recently, another book blogger and myself decided that Bash was one of our favorite parts of this novel. Seriously guys, I can't say anything else without spoiling something, but I know you will all enjoy the character development in this novel just as much as I did!
I won't say too much about the plot of this one because I do not want to give away any of the surprises or twists, but Fragile Reign had it going on! Everything flows so well in this novel. There is action, suspense, love, and one scene that was so freaking emotional, even I shed a tear: it's that great. If you real Mortal Enchantment and were even just a little impressed, this one will blow you completely out of the water, trust me on that one.
That emotional scene in mind, Stacey really takes the themes in this series and pushes them to their limits: betrayal, forgiveness, and responsibility are huge parts of this series. At one point I had to remind myself that these characters are still teenagers. It's so beautifully written that at times, I forget that on top of everything else going on in their lives, these characters have to deal with growing up. Emotions running wild, normal teenage problems, etc: can you imagine? Better them than me. In all seriousness though, they handle their problems with such maturity that you cannot help but to have massive amounts of respect for both the characters and our author, Stacey O'Neale.
One of my absolute favorite part about this series are the relationships that are present. Unlike other YA novels you read, Mortal Enchantment isn't about true love or relationships in that sense. Romance and love are definitely involved, but just the basic relationships between each and every character at the ground level are phenomenally written. Stacey O'Neale goes above and beyond to remind us all that all relationships are important. Even the friendship between two girls (Ariel and Kalin) or two guys (Rowan and Marcus) can prove to be just as imperative to our stories as a romantic relationship. Platonic friendships FTW! Seriously though. Stacey has mentioned before about how she has gotten flack for the closeness of her characters, particularly Marcus and Rowan. These characters are so close, they are truly brothers in every sense of the word. Where is it in the world and in literature that we stopped caring so much about all of our relationships and just about those that involve a romantic nature? I am not sure, but I hate it. I love reading about a true to life friendship, 'bromance' as you will. As a male reader myself, I find it to be extremely refreshing to see two males who can have such a tight bond and close friendship where the author isn't trying to imply something else. The same can be said of Kalin and Ariel. Everyone has friends, so why do books sometimes leave them out? I know that I, and many of you, would take a bullet for my best friend any day of the week. That kind of friendship doesn't develop overnight, why not embrace it? Kudos to you Stacey O'Neale for taking a stand against the masses and others in the literary world and showing us that relationships can about so much more than romance and sex.
The last thing I really want to touch on is the setting and new elements in this novel. While a few scenes take place in the mortal realm, unlike the previous installments, this novel takes place largely in Avalon, a decision I ultimately really agreed on. Avalon is described in much greater detail in this novel and we really get a sense of world building that helped to guild our story along rather beautifully. Stacey's words as written so beautifully as to paint the picture for the reader as though we are there! Stacey also brought a huge literary element into Fragile Reign that was merely hinted upon in previous installments: Arthurian literary devices. In this novel we learn that Excaliber is real, the Lady of the Lake was real, and that well... so were a whole lot of other things. Things in Avalon are about to get crazy!
My biggest upset is that all this was to build up to the final novel. We only have one more Mortal Enchantment book guys, just one... Expected out next summer! I am extremely heartbroken about this fact, but I believe Stacey is going to end this ride on a higer note that i would have ever imagined possible!
Still reading? I suppose I should wrap this up. After all that raving about how amazing this novel was, it shouldn't come as a surprise to anyone that I am granting Fragile Reign by Stacey O'Neale a 'completely-perfect-wouldn't-change-a-thing', 5+ star review. Yes, you read that correctly 5+ stars. That, my friends, is a whole lot of stars. If you have been on the fence about whether or not to pick up this series, I urge you folks, do not hesitate any longer. This series is truly a literary masterpiece and its' entire existence speaks volumes to the amazing originality and creative soul that is Stacey O'Neale. A perfect read for readers across all genres, ages, and genders: do not miss this.
*********************************************************************************
Alright guys, that's all I have for you today on the topic of Stacey O'Neale's
Fragile Reign
. Anyone who follows this blog regularly knows that Mrs. Stacey is one of my favorite people on this planet and I am beyond honored to call her a friend. Did you guys know that
Fragile Reign
features a new Hellhound named Ethan? Yeah? Let's just act like that's me, okay? Haha! Seriously though, I had the great pleasure of reading an ARC of this pre-release for Stacey and I am here to tell you all that it is her best work yet! I cannot WAIT for you guys to read this one! It was an amazing read for me, hands down! Let me know in the comments below if you've had a chance to check it out! Until next time, Happy Reading!
-Ethan