Man oh man have I got a SUPER SPECIAL post for you guys today! Today, July 9, 2014, I am honored to present to you the official COVER REVEAL to the exciting second novel in the EARTH SHATTERING, AMAZING, GROUNDBREAKING Rusk University series by the absolutely awesome sauce Cora Carmack! The long-awaited (okay, it's only been a couple of months...) sequel to the bestselling All Lined Up: All Broke Down! Cora Carmack is sure to have another hit on her hands and I am extremely honored to share this with you all.


As many of you know I am a member of Cora Carmack's Official Rusk University Street Team (view links in sidebar), meaning that I work with a group of 25 other amazing bloggers,readers, and fans to promote Cora's work and to give her feedback on ALL THE THINGS! It has been a great honor to serve as a Carmcat and special events like this make it even better!


Before we get started here with all things
All Broke Down
, if you haven't read or aren't familiar with book one of the series (
All Lined Up
), head over to my blog tour and review by clicking
here
! Hopefully you're already in the know about the
Rusk University
series so I'll just jump right in and give you guys a little info in the form of the official synopsis for
All Broke Down
!
ABOUT ALL BROKE DOWN:
In this second book in New York Times and USA Today bestselling author Cora Carmack's New Adult, Texas-set Rusk University series, which began with All Lined Up, a young woman discovers that you can't only fight for what you believe in . . . sometimes you have to fight for what you love

Dylan fights for lost causes. Probably because she used to be one.

Environmental issues, civil rights, corrupt corporations, and politicians—you name it, she's probably been involved in a protest. When her latest cause lands her in jail overnight, she meets Silas Moore. He's in for a different kind of fighting. And though he's arrogant and infuriating, she can't help being fascinated with him. Yet another lost cause.

Football and trouble are the only things that have ever come naturally to Silas. And it's trouble that lands him in a cell next to do-gooder Dylan. He's met girls like her before—fixers, he calls them, desperate to heal the damage and make him into their ideal boyfriend. But he doesn't think he's broken, and he definitely doesn't need a girlfriend trying to change him. Until, that is, his anger issues and rash decisions threaten the only thing he really cares about, his spot on the Rusk University football team. Dylan might just be the perfect girl to help.

Because Silas Moore needs some fixing after all.
Alright ladies and gentlemen, for the moment you have been waiting for! Without farther adieu I present to you the official cover reveal for Cora Carmack's All Broke Down: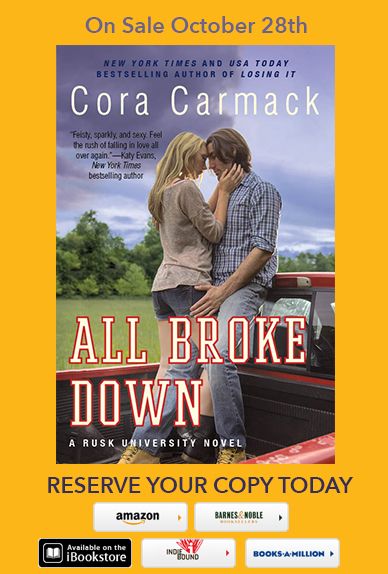 Pre-Order Your Copy Today!
And don't forget to grab your copy of ALL LINED UP Today!
Alright, now that you guys have seen that awesome cover, take yourself a minute to calm down, I know the excitement can be a little much! Now take a minute to learn a little bit about our amazing author, my great friend, and fearless leader of the Carmcats, Miss Cora Carmack:
Cora Carmack
Cora
Carmack is a twenty-something writer who likes to write about twenty-something characters. She's done a multitude of things in her life-- boring jobs (like working retail), Fun jobs (like working in a theatre), stressful jobs (like teaching), and dream jobs (like writing). She enjoys placing her characters in the most awkward situations possible, and then trying to help them get a boyfriend out of it. Awkward people need love, too. Her first book, LOSING IT, was a New York Times and USA Today bestseller.
Alright everyone, I hope you have all enjoyed your stop here at OneGuysGuideToGoodReads and seeing the cover reveal to Cora's All Broke Down! This is a very special series to me and I have Cora and her Street Team to thank for even getting me started on this blog. I encourage you all to check out the novels and to connect with Cora, because honestly, she is amazing to her fans. Thanks again for stopping by and remember to keep checking back for all the newest updates on Cora and her works! Until next time Wildcats:

Bleed Rusk Red

!
This cover reveal is brought to you by the amazing team at Inkslinger PR!
-Ethan